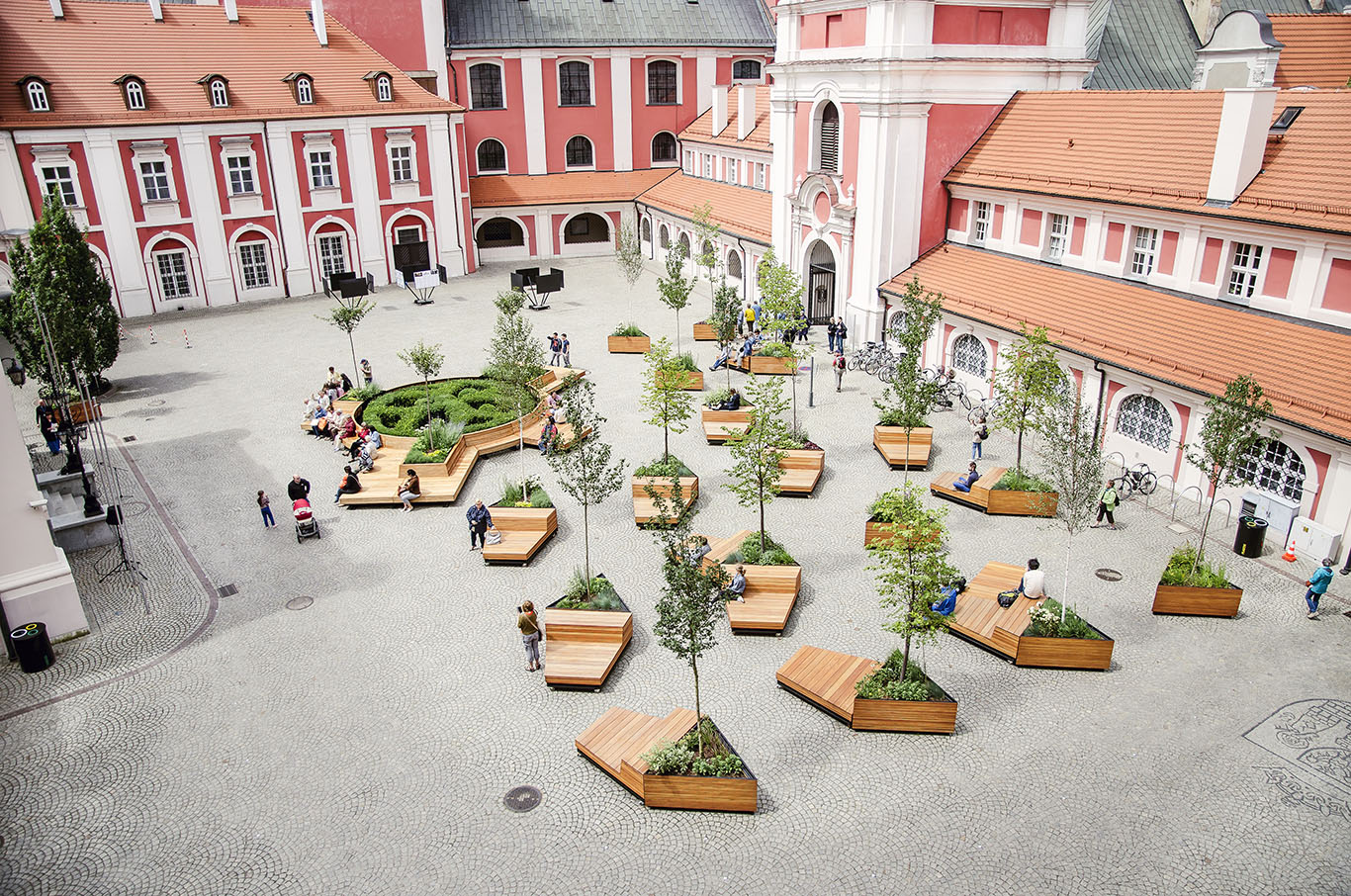 Voormalig Jezuïetenklooster, nieuw stadhuis Poznan, Polen
*Scroll down for the English version
| | |
| --- | --- |
| Locatie | Poznan, Polen |
| Jaar | 2015-2021 |
| Status | fase 1-2 afgerond, fase 3 - meubilair in aanbesteding, ingebruikname mei 2020, fase 4-5 in bouwaanvraag |
| Opdrachtgever | Stad Poznan |
| Oppervlakte | 800 m2 (gebouw), 2.350 m2 (plein) |
| Programma | Stadsmeubilair voor het binnenhof (fase 1-2), stadsinfocentrum en burelen (fase 3), entreebalie en stadskantoor voor afdeling architectuur (fase 4-5) |
| Team | Jola Starzak, Dawid Strębicki, Agnieszka Kotschy, Bartosz Bisaga, Bartosz Stanik, Maciej Polakowski, Luis Gómez Soriano, Martyna Karnaś, Michał Motyl, Salvatore Davide La Manna |
| Fotografie | Danil Daneliuk, Mateusz Bieniaszczyk, Atelier Starzak Strebicki |
Het ensemble van het voormalige Jezuïetenklooster dat we vandaag kennen begon haar vorm te krijgen aan het begin van de 18de eeuw, terwijl de laatste vleugels van het klooster in de tweede helft van de 19de eeuw nog werden afgewerkt. In de jaren daarop, voornamelijk tijdens de jaren van de Communistische Regime en de eerste jaren na de val van de Berlijnse Muur, periode 1945-2010, werden alleen elementaire en technische aanpassingen aan de gebouwen doorgevoerd, vaak op een rudimentaire, chaotische en ondoordachte wijze. Pas vanaf het jaar 2014 is men weer begonnen de gebouwenensemble meer ontvankelijk te maken voor de toeristen en inwoners van de stad, gebruikmakend van de aanwezige, historische architectuur.

Binnenhof, fase 1-2, 2015 - 2019

Groene oase, straat café, lokaal cultuurcentrum, publiek binnenhof. Dit zijn de nieuwe, mogelijke incarnaties van de binnenhof van het stadhuis van Poznań, dat via eenvoudige ingrepen getransformeerd is, van een parking voor auto's tot een publieke ruimte voor inwoners en toeristen.

Stadsinfocentrum, fase 3, 2016 - 2020

De ontwikkelingen van het binnenhof en de aanstaande verbouwing van het Kolegiacki-plein maakten van deze vleugel opeens een belangrijke schakel tussen de verschillende (nieuwe) publieke ruimtes in het centrum van Poznań. De gesloten burelen van de stadswacht maakten plaats voor een polyvalente zaal op het gelijkvloers en burelen voor de lokale toeristische organisatie op het verdiep.
Former Jesuit monastery, new Poznan town hall, Poland
| | |
| --- | --- |
| Location | Poznan, Poland |
| Year | 2015-2021 |
| Status | Completed |
| Client | City of Poznań |
| Program | Urban furniture for the inner court (phase 1-2), city information center and offices (phase 3), entrance desk and city office for the architecture department (phase 4-5) |
| Area | 800 m2 (the building), 2.350 m2 (outdoor space) |
| Team | Jola Starzak, Dawid Strębicki, Agnieszka Kotschy, Bartosz Bisaga, Bartosz Stanik, Maciej Polakowski, Luis Gómez Soriano, Martyna Karnaś, Michał Motyl, Salvatore Davide La Manna |
| Photography | Danil Daneliuk, Mateusz Bieniaszczyk, Atelier Starzak Strebicki |
Urban furniture for the inner court, phase 1-2, 2015 - 2019
Green oasis, street café, community centre, public square. These are the new incarnations of the Courtyard City Hall which was transformed from a car park into a meeting place for residents. The Courtyard located in the Old Town received a second life: it became an open, multifunctional public space.
The square has been furnished with a family of objects referring to different needs of groups of users. With a round big bench around the existing flower-bed and mobile seats that can be formed into amphitheatrical arrangement together with a podium. These elements may be used for seating, lying or cascade sitting referring to the scheme of auditorium in theatre.
All objects were put amongst flora, trees planted in flowerpots and high grass that give intimacy and cosiness to the urban interior.  
City information center and offices, phase 3, 2016 - 2020
The reconstruction of the historic Building C at Plac Kolegiacki is part of the gradual revitalization of the area at the City Hall. Building C is the eastern part of the northern wing of the Jesuit College, which was designed to close the quadrilateral courtyard. The main idea behind the project was to open the space of the historic building and create a meeting place for residents of Poznań and guests visiting the city. Thanks to the demolition of the walls, the existing narrow and claustrophobic surface of the ground floor has gained a more public and spatial character (friendly also for people with physical disabilities) which ensures multifunctionality: thanks to this the ground floor will be both a place of activity of a small cafe; a space where social consultations will take place, but above all, it will be open to residents and tourists who will be able to meet here, rest and use the space of the building. An important element connecting the building with the courtyard are steel, openable windows which allow both spheres to penetrate, thus making the border between the outside and the inside more fluid and flexible. In the basement designed changing rooms and showers for people coming to work on bicycles and additional toilets for employees and users of the complex at the City Hall. The floor space - fulfilling the office function for the headquarters of the Poznań Local Tourist Organisation (PLOT) - thanks to the new partition walls gained in spaciousness, thus ensuring an improvement in work comfort. All levels have been connected by a new common staircase made of concrete which replaced the existing two separate staircases, making it more pleasant and easier to move around the building.
Due to the historic character of the building which is the last stage of the construction of the new College in 1748-1751, specially selected natural materials were used in the project which corresponds to the historical past of the building. The corridor and common spaces in the basement were finished with brick tiles, stoneware tiles were used in the arrangement of bathrooms while on the first floor it was decided to place an oak floor. The whole project is complemented by furniture covered with ash veneer.