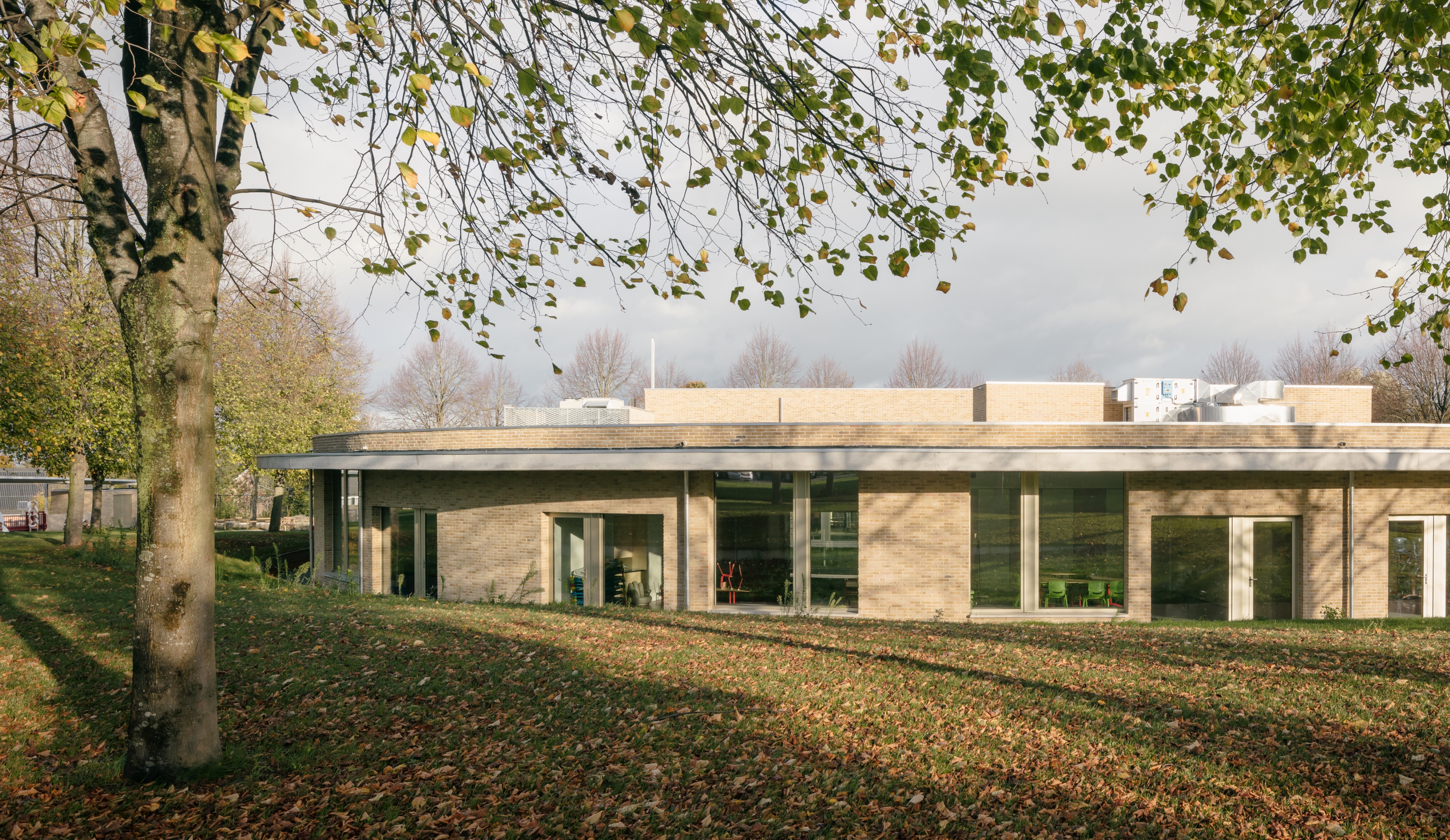 Infant classes and playgrounds in Dilbeek, Belgium
| | |
| --- | --- |
| Location | Dilbeek, Belgium |
| Year | 2016 - 2023 |
| Status | Closed competition, 1st prize, completed |
| Client | Gemeente Dilbeek |
| Program | 8 classrooms with backroom, gym, canteen with kitchen, multifunctional rooms, office spaces for teachers, landscape and outdoor playground design |
| Area | 2250 m2 |
| Team | Jola Starzak, Dawid Strębicki, Bartosz Bisaga, Joanna Lewańska, Dominika Lis, Luis Gómez Soriano |
| In collaboration with | Carton123 architecten, Brussels, Belgium, Natural Born Architects, Brussels, Belgium; On this project we are working together as: TV Team Begijnenborre |
| Photography | Stijn Bollaert, Iwein De Keyzer, Jordy van Osselaer |
The fundamental premise for the project of the primary school and child day care center was to engage with the overall landscape of Dilbeek municipality devoid of dense architecture.
The new building was located on the open area with the access to many footpaths and greenery, among the trees planted on the plan of the square. In this way a current landscape was not only preserved but also nature was employed as legitimate and functional division between the wing of the primary school and the wing with day care center. Both are connected with the outside roof.
The interiors contain open plan that enables to rapidly adapt the space to changing needs of pupils and the dynamic life of the school. The character of the building changes together with the following seasons and the trees regulate the degree of insulation and shadowing particular rooms.