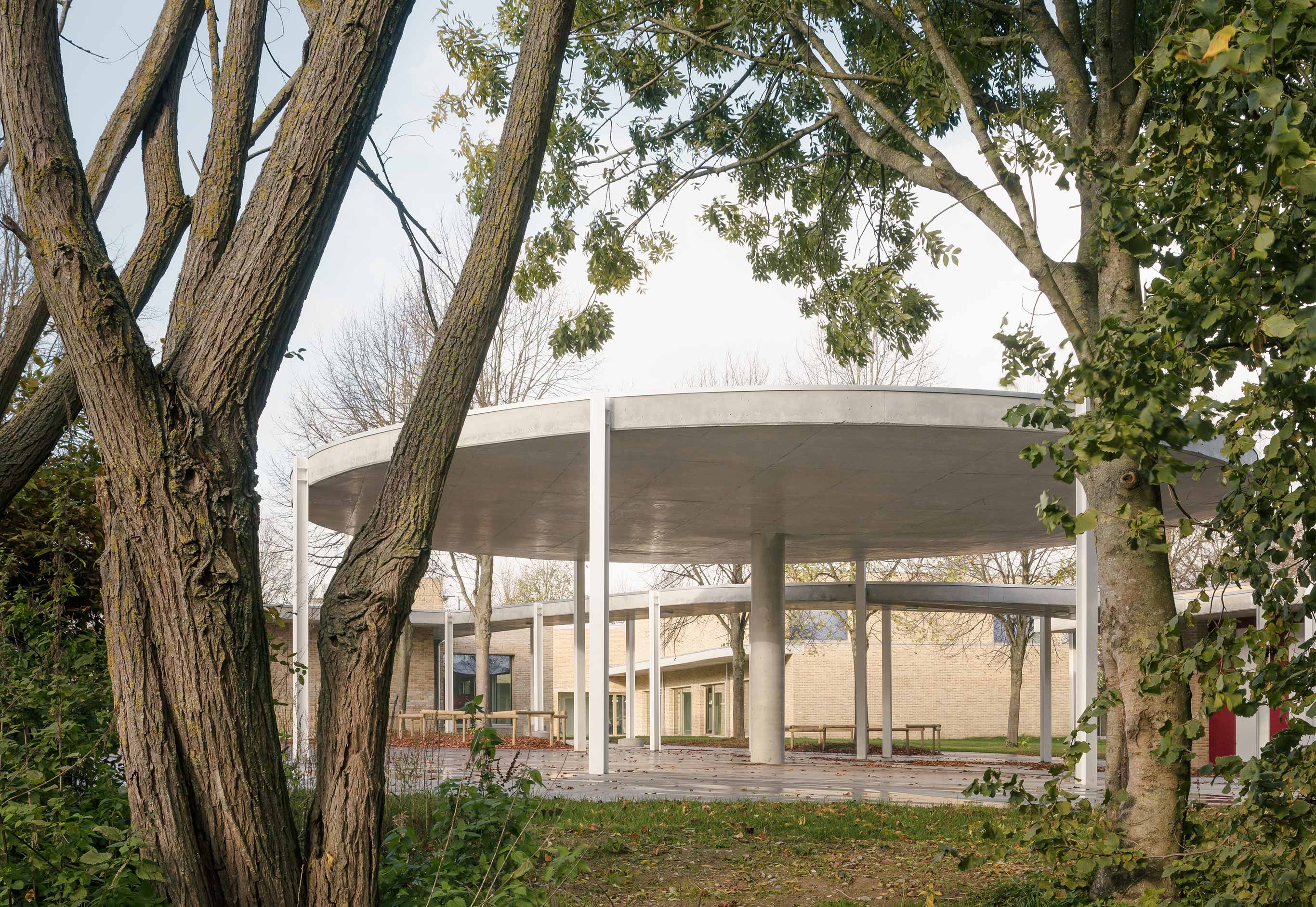 Infant classes and playgrounds in Dilbeek, Belgium
| | |
| --- | --- |
| Location | Dilbeek, Belgium |
| Year | 2016 - 2023 |
| Status | Closed competition, 1st prize, completed |
| Client | Gemeente Dilbeek |
| Program | 8 classrooms with backroom, gym, canteen with kitchen, multifunctional rooms, office spaces for teachers, landscape and outdoor playground design |
| Area | 2250 m2 |
| Team | Jola Starzak, Dawid Strębicki, Bartosz Bisaga, Joanna Lewańska, Dominika Lis, Luis Gómez Soriano |
| In collaboration with | Carton123 architecten, Brussels, Belgium, Natural Born Architects, Brussels, Belgium; On this project we are working together as: TV Team Begijnenborre |
| Photography | Stijn Bollaert, Iwein De Keyzer, Jordy van Osselaer |
The most important premises for the project of a kindergarten and day-care centre in the Belgian town of Dilbeek, near Brussels, were to develop the building without cutting down any trees and to integrate new architecture into the surrounding landscape. The building has an oval shape with an internal patio. It blends in with existing trees on site, and thanks to the large windows in the kindergarten rooms, canteen, gymnasium and corridor, it is possible to observe the beauty of the surrounding nature changing throughout the seasons. It is the trees that have guided the work on the shape and spatial organisation of the entire project. Here, the architecture serves as a background for the greenery.
The kindergarten building, meandering between the trees as far from the neighbouring plots as possible, creates a peaceful green retreat. The trees also regulate the sunlight inside and form a natural barrier between the two segments of the building - the kindergarten and the daycare centre, which is open after class hours. Both are connected to each other by an external canopy. The functional layout of the interior is simple and allows to walk around the building along a corridor surrounding the patio. Along this axis, all functions in the building are located. Directly adjacent to the covered entrance, by the street, are the sports hall and the canteen. This location allows them to be used independently of the kindergarten's opening hours. The kindergarten and daycare rooms are located in a more intimate part of the building.
The corridor around the patio not only serves a connecting function, but is also a space for playing and informal gatherings. The wall separating the corridor space from the kindergarten rooms is a multi-functional piece of furniture hiding seats, storage, a cloakroom and large windows that further illuminate the kindergarten rooms and provide them with a second viewing axis - towards the patio. Each playroom also has large windows overlooking the greenery and offers direct access from the room to the garden surrounding the kindergarten with playgrounds and covered spaces dedicated to spend time outside in the rain. Thanks to custom-designed furniture, along the windows in the building, it is possible to sit on wide windowsills and observe the beauty of nature.
The open layout of the building gives the interior a versatile character and ease of adaptation, depending on the changing needs of the preschool community and the activities organised. The entire functional layout of the interior relates directly to the outdoor spaces, connecting with them into a whole and providing the preschool community with various places to play, learn and explore the newly designed spaces.