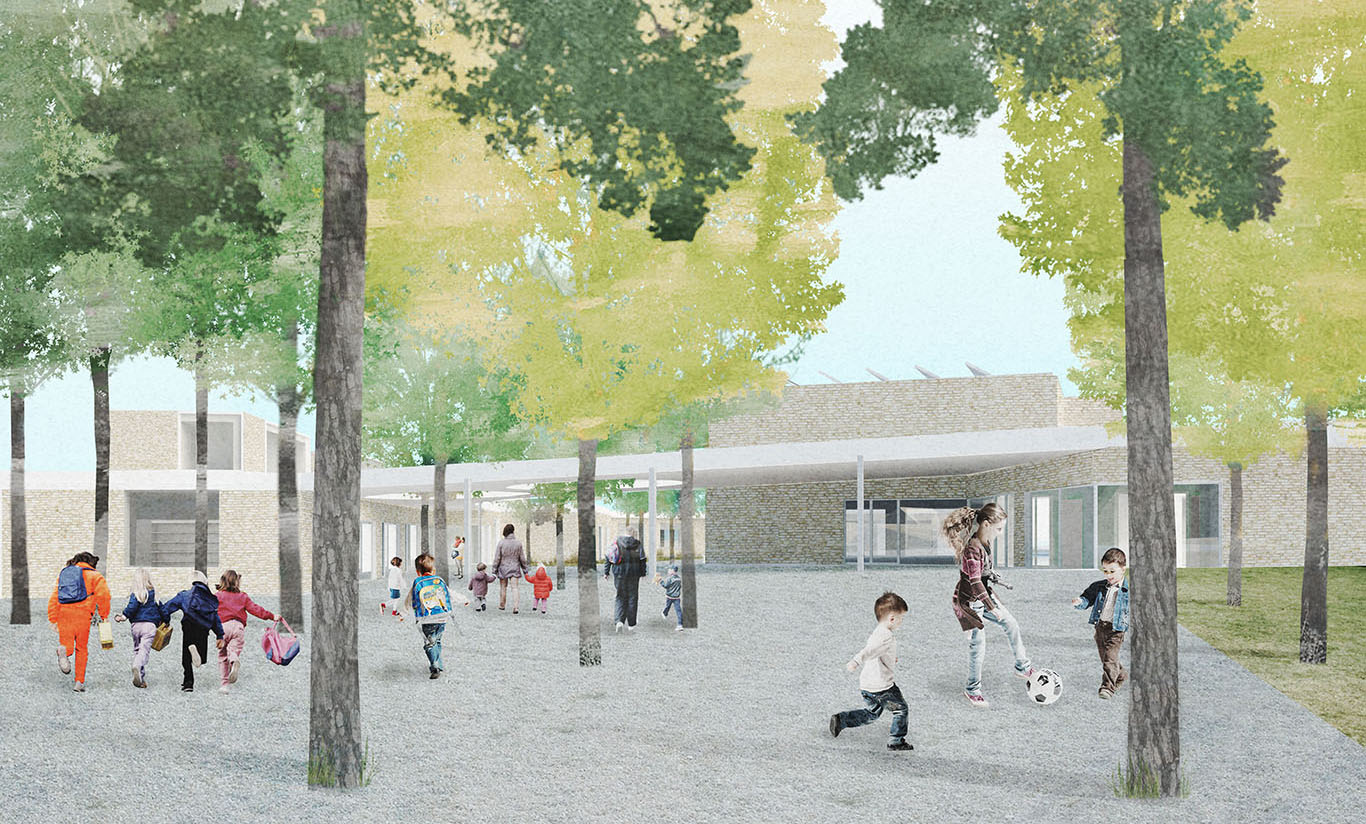 Kleuterklassen en speelpleinwerking in Dilbeek, België
*Scroll down for the English version
| | |
| --- | --- |
| Locatie | Dilbeek, België |
| Jaar | 2016-2021 |
| Status | Besloten prijsvraag, Open Oproep Vlaams Bouwmeester 3004, weerhouden, in werf |
| Opdrachtgever | Gemeente Dilbeek |
| Programma | Het realiseren van 8 klaslokalen, lokalen speelpleinwerking, refter, polyvalente zaal en overdekte speelplaats |
| Oppervlakte | 2250 m2 |
| Team | Jola Starzak, Dawid Strębicki, Bartosz Bisaga, Joanna Lewańska, Dominika Lis, Luis Gómez Soriano |
| In samenwerking met | Carton123 architecten, Natural Born Architects en Atelier Arne Deruyter |
Enkele uitgangspunten lagen voor ons vast: geen enkele boom wordt gerooid, de huidige schoolgebouwen blijven tijdens de werfperiode in gebruik, zicht- en geluidshinder voor de buren moeten minimaal zijn. Het nieuwe schoolgebouw zoekt de dubbele rij lindebomen op. De bomen bieden privacy, geborgenheid, zonwering, doorzichten, licht en schaduw. Leven met de seizoenen.
Speelpleinen en kleuterschool zitten samen, maar toch apart. De afstand tot de gedeelde functies (refter, polyzaal en overdekte speelplaats) is voor beiden gelijk. Het grondplan is zeer flexibel in gebruik en beheer ; vele scenario's zijn mogelijk. Een rondgang langs de binnentuin rijgt het gebouw aan elkaar. Een flauwe curve vermijdt de indruk van een lange gang, en zorgt voor een continu wisselende lichtinval.
 
Klassen en speelpleinlokalen hebben zichten op het omliggende landschap. De overdekte speelplaats, bereikbaar via een buitenpasserelle, is vrijstaand, als een paviljoen in het park. Een looppiste vormt een rondgaand pad op het terrein. De piste sluit in de vier hoeken aan op bestaande (voet-)wegen en toegangen. Elke toegang wordt geaccentueerd door een nieuw landschappelijk element dat de biodiversiteit van de site verrijkt: een hoogstamboomgaard / een solitaire boom aan een wadi / een plein met bomengrid / een parking verscholen achter bomen en hoog gras.
Infant classes and playgrounds in Dilbeek, Belgium
| | |
| --- | --- |
| Location | Dilbeek, Belgium |
| Year | 2016 - |
| Status | In realisation |
| Client | Gemeente Dilbeek |
| Program | 8 classrooms with backroom, gym, canteen with kitchen, multifunctional rooms, office spaces for teachers, landscape and outdoor playground design |
| Area | 2250 m2 |
| Team | Jola Starzak, Dawid Strębicki, Bartosz Bisaga, Joanna Lewańska, Dominika Lis, Luis Gómez Soriano |
| In collaboration with | Carton123 architecten, Brussels, Belgium, Natural Born Architects, Brussels, Belgium; On this project we are working together as: TV Team Begijnenborre |
The fundamental premise for the project of the primary school and child day care center was to engage with the overall landscape of Dilbeek municipality devoid of dense architecture.
The new building was located on the open area with the access to many footpaths and greenery, among the trees planted on the plan of the square. In this way a current landscape was not only preserved but also nature was employed as legitimate and functional division between the wing of the primary school and the wing with day care center. Both are connected with the outside roof.
The interiors contain open plan that enables to rapidly adapt the space to changing needs of pupils and the dynamic life of the school. The character of the building changes together with the following seasons and the trees regulate the degree of insulation and shadowing particular rooms.