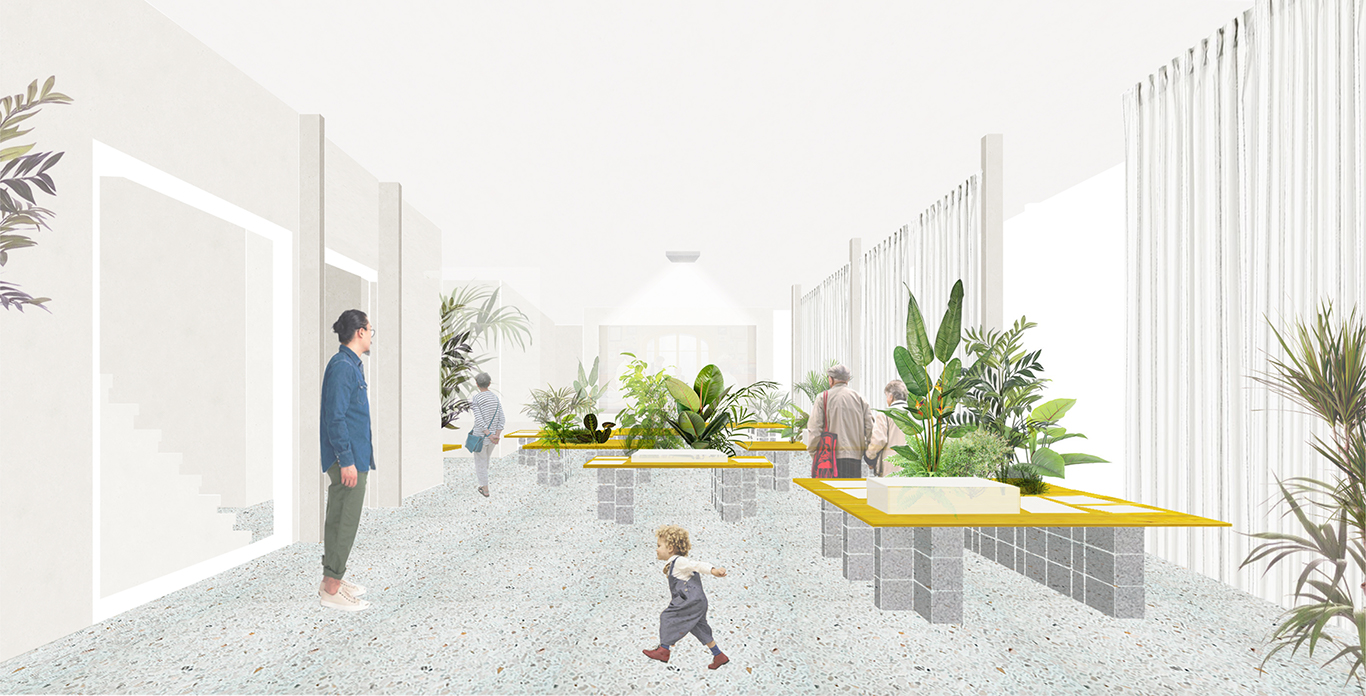 Scenography design for "Anthropocene" exhibition in Zodiak Warsaw Pavilion of Architecture
| | |
| --- | --- |
| Location | Warsaw, Poland |
| Year | 2021 |
| Status | Closed competition |
| Client | Narodowy Instytut Architektury i Urbanistyki |
| Program | Exhibition design |
| Team | Jola Starzak, Dawid Strębicki, Maria Rybakowska, Amelia Mordak, Agnieszka Grzemska |
Lend - Give - Resell - Share - Reuse
These are the main slogans of the "Anthropocene" exhibition arrangement project in the Warsaw Architecture Pavilion Zodiak. The scenography is created by materials that are not only visually attractive but also durable, which makes further use possible and minimizes waste production.
Furniture designed for the exhibition combines shuttering boards and concrete blocks, which can later return to the construction site as fully valuable materials. Modularity of the furniture provides flexibility in arranging any layout in the pavilion's halls.
Greenery plays an equivalent role to the exhibited materials. The mutual presence of people and plants at the exhibition emphasizes our attachment to nature, reminds us of the importance of this relationship, the need to respect and care for it. Apart from the plants available in Zodiak, some were intended to be borrowed from a garden center, and then to be re-sold after the event.
The exhibition arranged inside the pavilion was divided between the levels by themes, illustrating the aspects of the Doughnut Economics: ecological ceiling and social foundation. The exhibition is complemented by an outdoor circular installation, that serves as an introduction and an invitation to the exhibition. Rotunda will be formed by modular elements of scaffolding, available for temporary rental. Empty fields of the transparent structure were thought to be filled with posters explaining the theory of the Doughnut Economics.