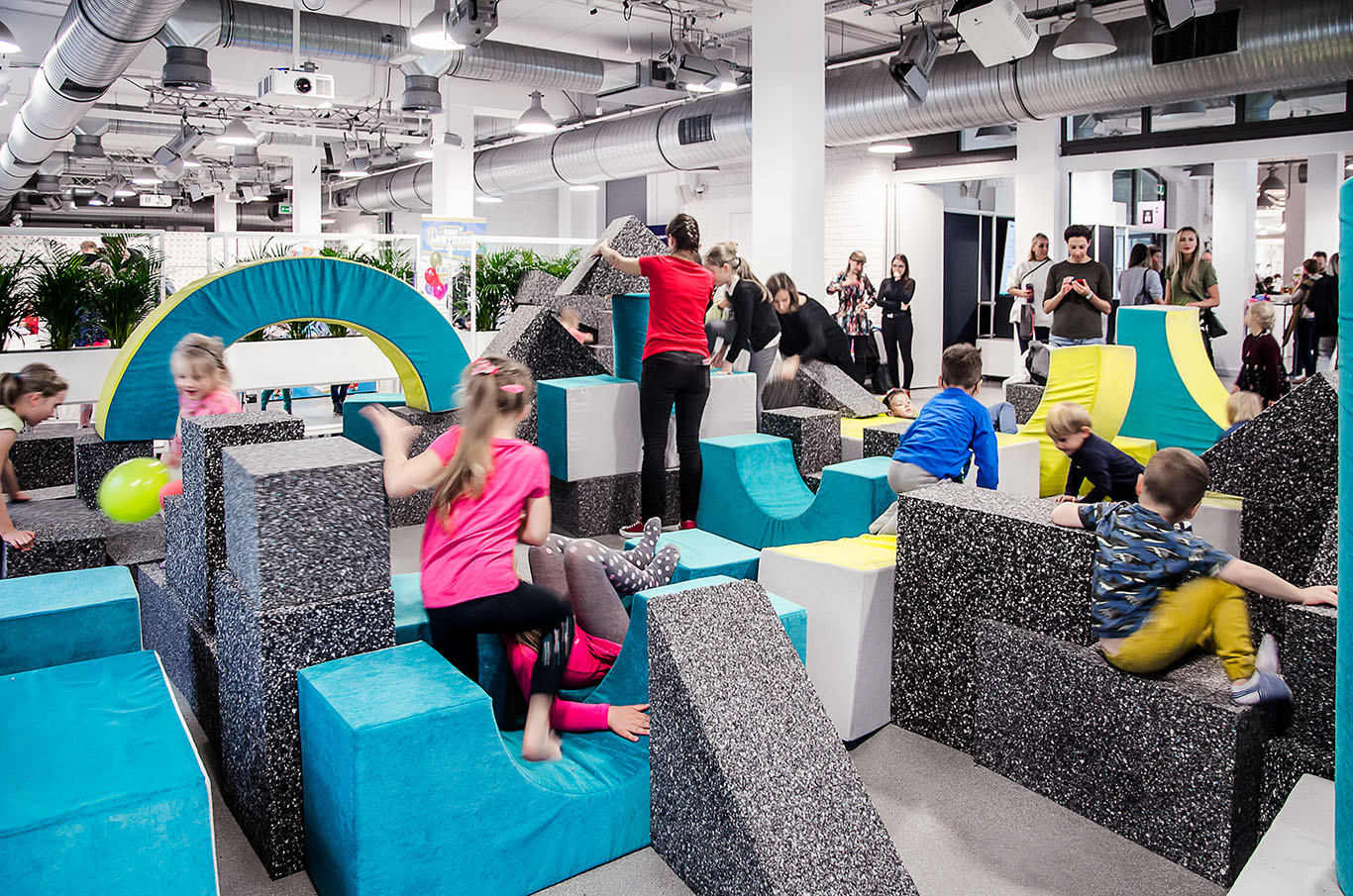 Scenography design for "Exhibition - Playground" during VII Design and Creativity Festival for children EneDueDe in Concordia Design.

| | |
| --- | --- |
| Location | Concordia Design, Poznań, Poland |
| Year | 2017 |
| Status | Completed |
| Client | Concorida Design |
| Program | Exhibition design |
| Team | Jola Starzak, Dawid Strębicki, Agata Holdenmajer |
| Photography | Mateusz Bieniaszczyk |
A set of foam objects, whose structure refers to blocks, is a project realized for the needs of the Festival of Design and Creativity for Children "EneDueDe", held on 18-24 September 2017, organized by Concordia Design in Poznań. The exhibition focused around an idiom exploring various forms of expression and play at the junction of urban space. The first premise that accompanied the creation of the elements referred to the selection and purchase of material that guarantees safety on the one hand, and does not generate a lot of waste on the other. Another important feature taken into account in the selection of the material was its flexibility, ensuring the possibility of designing different shapes of solids. We decided that foam was a material that met the criteria and at the same time proved its worth in similar projects. Our budget allowed us to purchase three large blocks (2m x 1m x 1.2m), which we then cut in such a way as to ensure the greatest possible variety of blocks. This ensures that the objects allow the creation of an infinite number of layouts, but at the same time maintain the disposition to return to the initial figure of a large solid. Thanks to this, we not only managed to avoid material waste, but above all, we have obtained elements that are accessible to both young and old users. Our inspiration was Aldo Van Eyck's approach: we wanted the children to have a sense of pro-activity, so despite the presentation of several instructions that show how to build a house or stairs, the final decision in defining and giving meaning to the elements of the exhibition was left to the workshop's main characters. Thanks to the friendly and easy to store form, the blocks can be used in subsequent Concordia Design projects, which will be an opportunity for the next explosion of children's creativity.