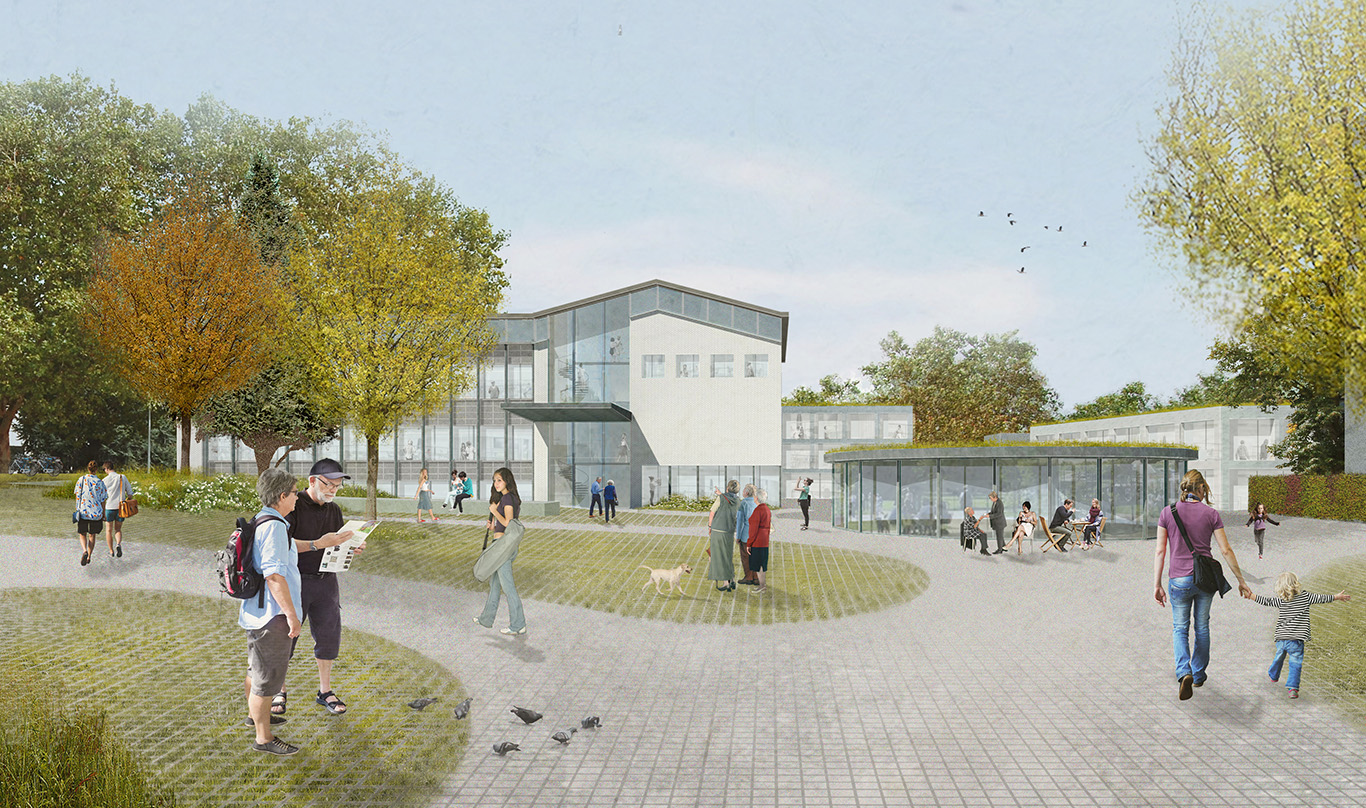 Masterplan woonkern Heverlee, België
*Scroll down for the English version

Download Projectfiche (PDF)
| | |
| --- | --- |
| Locatie | Strombeek-Bever, België |
| Jaar | 2018 - 2019 |
| Status | Besloten prijsvraag, Open Oproep Vlaams Bouwmeester 3508, niet weerhouden, 2de plaats |
| Opdrachtgever | Stad Leuven |
| Programma | Het opmaken van een structuurvisie voor de woonkern van Heverlee met daarin focus op twee deelgebieden, namelijk het gebied rondom het Sint-Lambertusplein met het oud gemeentehuis en het gebied van OHL-TC Stade Leuven aan de Dijle |
| Team | Jola Starzak, Dawid Strębicki, Anastasiia Oksiukovska, Natalia Álvarez Alonso, Anna Śmierzchalska |
| In samenwerking met | Atelier Arne Deruyter, TML Leuven, IDEA Consult, Jan de Moffarts Architecten en Osmos Network |
Woonkern Heverlee
In het centrum van Heverlee kunnen we vandaag al verschillende plekken met duidelijke centrumfuncties onderscheiden. Ze zijn belangrijk voor het functioneren van de woonkern en nemen een prominente plaats in de dagelijkse belevenis van de woonkwaliteiten door de inwoners. Het stadsweefsel analyserend en gezien vanuit een vogelperspectief is de densiteit en verscheidenheid van de functies op een relatief klein gebied groot. Ook de onderlinge afstanden zijn aangenaam kort. Het masterplan voor de woonkern Heverlee biedt daarom een uitgelezen kans om via het werken rond deze sterke troeven een duurzame aanpassing van de publieke functies en ruimtes tot stand te brengen en ze met elkaar te verbinden.

Deelgebied Sint-Lambertusplein
De positie van het oude gemeentehuis in relatie tot de directe omgeving is prettig, net als de kerk wordt het door de publieke ruimte omringd. De schaal lijkt juist in relatie tot het voorplein en de aanpalende bebouwing. Ook vanuit de optiek van de sociale waarde van het gebouw en duurzaamheid lijkt het ons aangewezen om het voormalig gemeentehuis te behouden en naar hedendaagse normen te verbouwen.
Om goed aan de gevraagde programmanoden te voldoen werken we met drie nieuwe 'paviljoenen' aan het oude gemeentehuis. Gezamenlijk creëren ze een doorwaadbare tussenruimte, die we als een mogelijk evenementenplein zien. De diverse, gelijkvloerse functies, zoals een café, een restaurant of een 'foodhub' met moestuin laden de omliggende publieke ruimte op.
Onder het plein en de paviljoenen wordt de nieuwe ondergrondse berging van 2.200 m2 voorzien.

De omgeving rond het oud gemeentehuis is opgedeeld in 3 verschillende verblijfsplekken:
- Achteraan het oud gemeentehuis voorzien we een theaterruimte bestaande uit zittreden. Rond de treden is er deels gemaaid gazon, deels bloemrijk grasland. Dit is een plek waar mensen aangenaam kunnen vertoeven en waar voorstellingen kunnen doorgaan.
- Tussen het oud gemeentehuis en de andere gemeenschapsvoorzieningen wordt een verhard evenementenplein in kleine kasseitjes voorzien.
- Vooraan het gemeentehuis voorzien we een ander plein. Dit plein is half verhard met bomen en struiken 'aan de randen', zodat we aangename zitplekken ertussen en zichten vanuit de omliggende gebouwen op het plein creëren. De muur dwars op het plein doet dienst als zitmuur. Het plein wordt uitgevoerd in betongrastegels die het geheel een groene look geven. Hoewel de verharding perfect betreedbaar is, zorgen de verharde looplijnen voor een extra dynamiek en wordt de algemene toegankelijkheid van het plein gegarandeerd.

Deelgebied OHL-TC Stade Leuven
De te behalen winsten voor dit 'groengebied' aan de Dijle zijn groot. Mits juiste ingrepen, kan deze site een positief gegeven zijn voor iedereen, de inwoners van Heverlee, Stad Leuven, TC Stade Leuven en OHL.
Eén van de prioriteiten volgens het Ruimtelijk Structuurplan Leuven voor deze site is om het natuurlijk ecosysteem te herstellen, daarbij moet de Dijle zoveel mogelijk 'geflankeerd worden door groene ruimten en oeverstroken' in de vallei. We wensen in te spelen op de 'landschappelijke eigenheid' van dit gebied door de schaalvergroting te koppelen aan een 'groene publieke ruimte met gemengde programma's'.
In een aantal fases kunnen alle tennis- en padelvelden in een nieuwe multifunctionele (groen-)structuur ondergebracht worden. Op het bestaande maaiveldniveau worden alle 400 parkeerplaatsen onder een licht, publiektoegankelijk dek voorzien. Deze zeer compacte structuur maakt het mogelijk om een nieuw park aan te leggen dat de oevers vrijmaakt en met groen dat tot aan de Kardinaal Mercierlaan reikt. Verder maken de bestaande niveauverschillen tussen het terrein OHL-TC Stade Leuven en de Kardinaal Mercierlaan dat het publieke dek bijna naadloos op deze laan aan kan sluiten. Het zeer open karakter van beide functies laat toe om met lichte materialen en structuren te werken die niet waterdicht zijn. De bovenzijde van het dek wordt in planken afgewerkt en de zijkanten met een net waarlangs klimplanten groeien. We zien deze groene structuur als een onderdeel van het aangelegde park.


Het park zelf wordt ingericht als een verlengde van het eigenlijke park. De Dijle wordt mooi ingepast in een groen geheel en krijgt zo de aandacht en het respect die het verdient. De beplanting in het park bestaat hoofdzakelijk uit inheems soorten passend in het landschap. Er is een wadi die voor een feeëriek beeld zorgt, enkele treden zorgen voor zitplaatsen en versterken het verblijfsgevoel. In het park zijn enkele heuvels gecreëerd, ze zorgen voor diepgang in het park, verbinden de verschillende niveau's en fungeren als spel- en ligweide.
Urban plan for the center of Haverlee
| | |
| --- | --- |
| Location | Heverlee, Belgium |
| Year | 2018-2019 |
| Status | Closed competition. Second place. |
| Client | City of Leuven |
| Program | Urban plan for the center of Haverlee, including the area around the former town hall, park, tennis club facilities, parking for the OHL stadium |
| Area | 16.2 ha |
| Team | Jola Starzak, Dawid Strębicki, Anastasiia Oksiukovska, Natalia Álvarez Alonso, Anna Śmierzchalska |
| In collaboration with  | Atelier Arne Deruyter, TML Leuven, IDEA Consult, Jan de Moffarts Architecten en Osmos Network |
As part of the competition organized by the Belgian city of Leuven, we prepared an urban plan for the centre of the Heverlee district, which included, among other things, a plan for the development of the former town hall building and sports and recreation areas (facilities of the tennis club, car parking and park). In line with the city's green development policy, we wanted to lighten car transit introducing a speed limit of 30 km/h and connecting the new cycle lanes in the district to the main cycle loop in Leuven. We added greenery and decided to create flat and levelled surfaces to fully exploit the potential of a pedestrian and cyclist-friendly space. Because the residential core of the district is compact and there are short distances between the main areas of Heverlee's public life, all solutions in the project were designed to combine central urban functions (spatial, cultural, social) to achieve sustainable adaptation.
The revitalization of the old town hall building was based on the use of its greatest assets, i.e. its central location and its accessibility, which is distinguished by its pro-social and public character.  We did not want to give up its social usefulness, but on the contrary, we wanted to stress that its renewal and adaptation for a local cultural centre could bring a city-forming and culture-creating value for the inhabitants of Heverlee. Therefore, in the project, we have taken into account the need to renovate the building and transform it in such a way that it meets contemporary standards. For this reason, we proposed the removal of stairs that restricted accessibility for people with mobility difficulties and added a mezzanine with a direct entrance from the adjacent square. The public value of the space around the town hall was enhanced by the construction of three pavilions, creating a new urban agora for meetings. Each of the newly created places fulfils a designated function (e.g. a café, a music academy, a workshop space), but there is a dynamic transition between them responsible for mutual relations and overall complementarity, which corresponds to the daily rhythms of urban activity. At the back of the old town hall building, we planned to create an additional space with low stairs, thanks to which Heverlee gained another city forum, which not only works as a place of relaxation, but is also perfect for a public presentation of theatrical performances. The front part of the courtyard has been arranged in a way that attracts strollers to a temporary stop for rest, but at the same time takes into account the need to guarantee space for a weekly market. Therefore, we decided to use semi-cured and semi-paved green pavements that provide durability and accessibility for all users.
In line with Leuven's green urban policy, we proposed to redesign the existing sports and leisure facilities in the vicinity of the park and the Dijle river. Our priority was to restore the area to its natural ecosystem, thereby maximizing the benefits of combining the planned spatial activities with the green area along the river. Following the above idea, we have planned a comprehensive reorganization of the structure connecting tennis courts and parking lots. We eliminated the parking lot and moved the existing sports fields to a multifunctional and environmentally friendly sports and recreation complex. On the two floors of the sports facility, we have provided spaces for tennis, while on the ground floor we have created four hundred parking spaces. The latter can be transformed into a new public space in the future by means of easily dismountable platforms. The façade of the buildings has been covered by a grid with growing green vines, which naturally harmonizes the building with the surrounding landscape. For a better integration of the sports and leisure area into the green area along the Dijle, we decided to design a new park that would extend the natural park and bring the river closer to the public space of the city. As a result, the local community has a new place to meet and do business together.