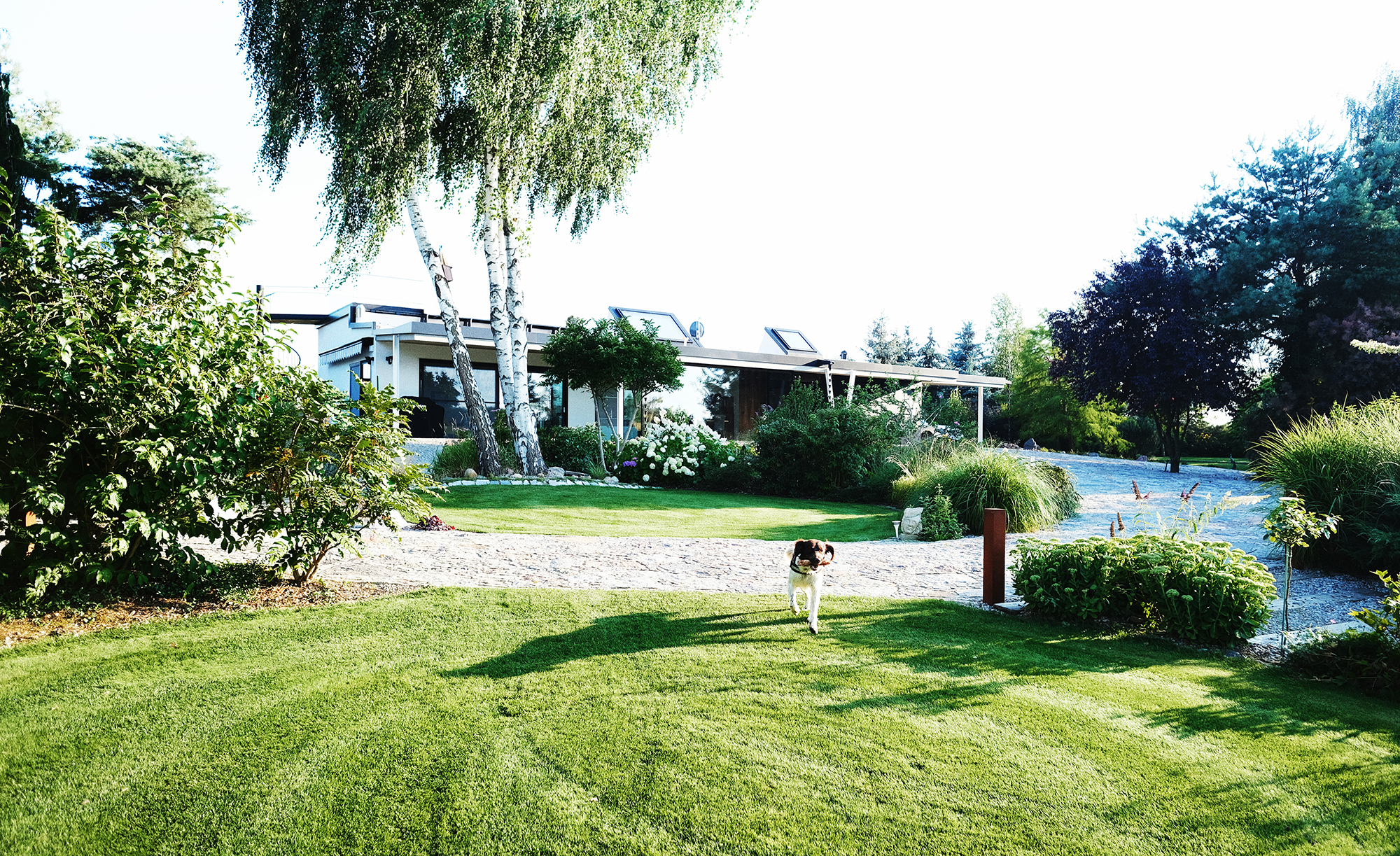 Single-family house by the lake
Location
Greater Poland, Poland
Year
2014 - 2019
Status
Completed
Client
Private
Program
Residential
Area
285 m2
Team
Jola Starzak, Dawid Strębicki, Anna Śmierzchalska, Wioleta Bowsza, Maria Kalińska, 

Luis Gómez Soriano, 

Paweł Krauska, Joanna Lewańska, Bartosz Bisaga
Text
Mateusz Nowacki
The design of the house was accompanied by the assumption to fully exploit the potential of the beautiful area bordering on the lake and to create a space that would harmoniously correspond with the surrounding landscape. The public part of the house is made up of a room connected with a kitchen and a dining room with a window more than five meters wide, which gives the effect of a natural panorama of the nearby landscape changing according to the seasons of the year. The private part consists of four bedrooms with entrances to roofed terraces: one with direct access to the bathroom for permanent residents of the house and three guest bedrooms (possibility of obtaining two, thanks to the mobile wall between rooms). In addition to the bathroom adjacent to the bedroom, there are two more in the house: one in the corridor between the bedrooms, the other in the entrance corridor.

The walls of the house are made of brick, while the roof structure is made of boarded reinforced concrete poured in place, thanks to which a visually attractive drawing of reflected wood is obtained on the ceiling. The concrete roof is supported by thin H-shaped steel columns. A terrace was designed on the roof with a view of the lake and garden.
During the design process, the idea was also to provide functional and economical solutions related to energy consumption issues in the building. The heating of the building is provided by a water-to-water heat pump, with two boreholes reaching a depth of 150 m below ground. In addition, thick and well insulated walls, a concrete roof and a carefully thought-out position of various window openings with triple glazing ensure a stable interior temperature, regardless of the season. For example, the skylights in the roof face north to avoid excessive heating of the rooms. On the other hand, roofs above external terraces protect large window areas from the sunshine in summer and in winter low incident rays of sunlight can penetrate through large window openings and illuminate them pleasantly. Natural materials such as walnut veneer, stone and old planks from the demolished platform are used to finish the interior. An additional element complementing the atmosphere of the living area is the fireplace.