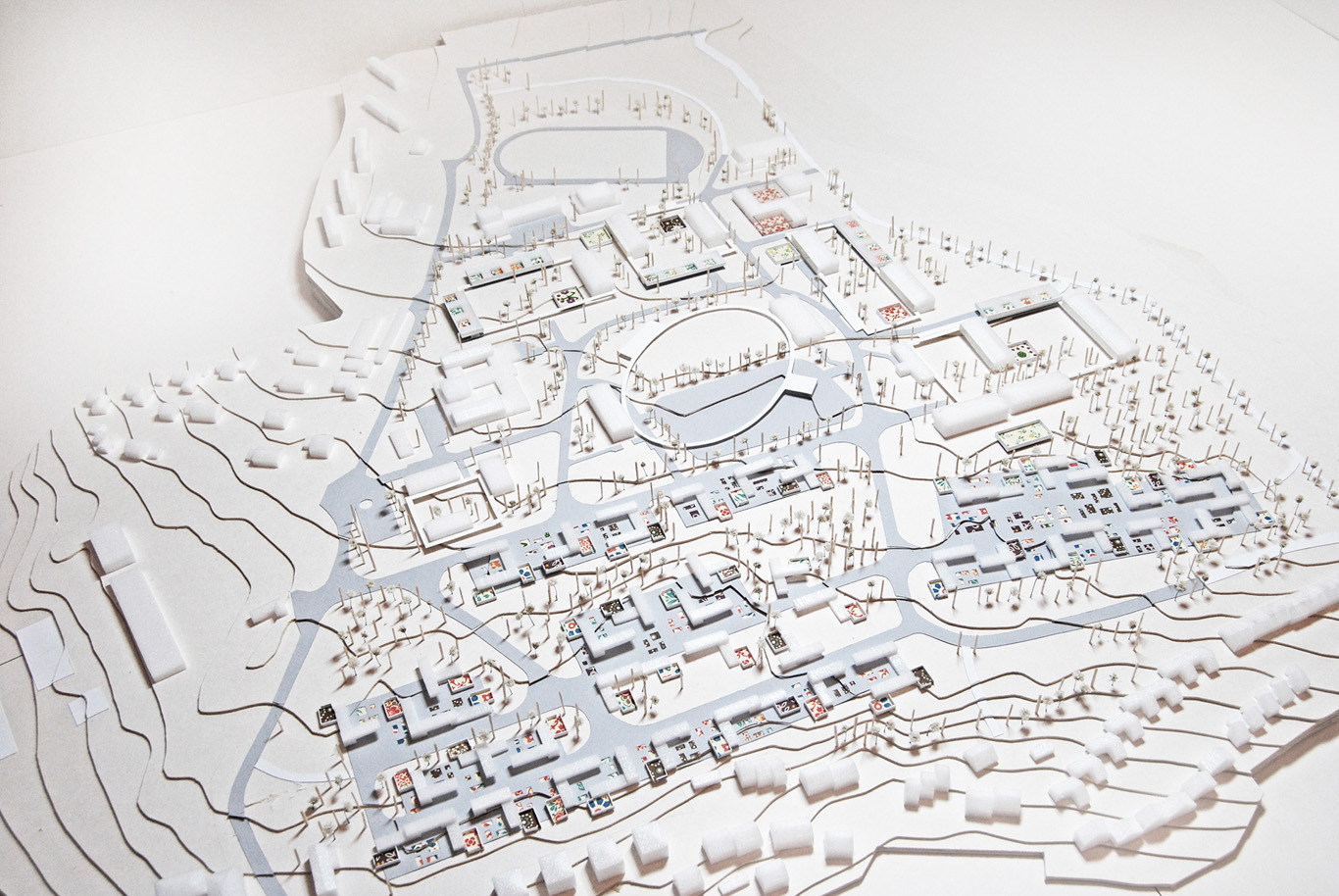 Refurbishment of a former military base into a housing neighbourhood
| | |
| --- | --- |
| Location | Donauwörth, Germany |
| Year | 2013 |
| Status | Europan 12, European competition for architects under the age of forty |
| Client | City of Donauwörth |
| Program | Refurbishment of the former military buildings into dwellings, hotel, social and commercial spaces, renovation of the central square and sport field |
| Team | Jola Starzak, Dawid Strębicki, Maria Jose Company Ibanez, Katarzyna Leśniewska, Zofia Piotrowska |
Parkstadt, 'Alfred Delp Kaserne' and Am Schellenberg
'Alfred Delp Kaserne' in it's scale and building density connects well to the neighbouring districts of Parkstadt and Am Schellenberg. The disconnection happens today by the presence of the fence, which is the only obstruction.
'Alfred Delp Kaserne' and ecology
Ecology as the way of looking at what is already present. In the first place keeping the elements of the existing urban structure which are used as the backbone for the future developments, consisting out of the landscape elements, present roads and buildings. All the existing road surfaces are adjusted in order to make the (former) military base ready for the pedestrians, bicycles and slow traffic movement.
North
The situation and open character of this part of the base can be easily maintained, just to be imagined without the fence. And the adjoining technical buildings, such as for example the heating facility, are proposed to be converted for sport uses. Such interventions are enough to make this a successful area for sports / recreation, with a view towards the surrounding landscape.
Central part
All of the (former) military housing and most of the administrative and supply facilities are proposed to be maintained and converted in order to house the new functions and comply to the contemporary needs of living. Those functions include spaces such as for living and working, multi-generational living and different adjoining (local) services. Different atmospheres and scales of the public spaces are re-defined by the introduction of pergolas.
South
A terrain that was artificially terraced in order to create ground to build upon. The proposition is to demolish the existing garages and storehouses of the (former) military base, but to maintain the rest of the present situation. On the prepared, terraced concrete surfaces / slabs there is a low density housing proposed, that interacts with the dense vegetation and the housing neighbourhood on the south.
Central square / central pergola
The heart of the former 'Alfred Delp Kaserne' as the heart of the new living neighbourhood. The circular pergola will replace the circular ring road as the main characteristic of this space, that binds several new and existing buildings together. Further the already existing landscaped park remains unchanged, ready to be inhabited by the local users.