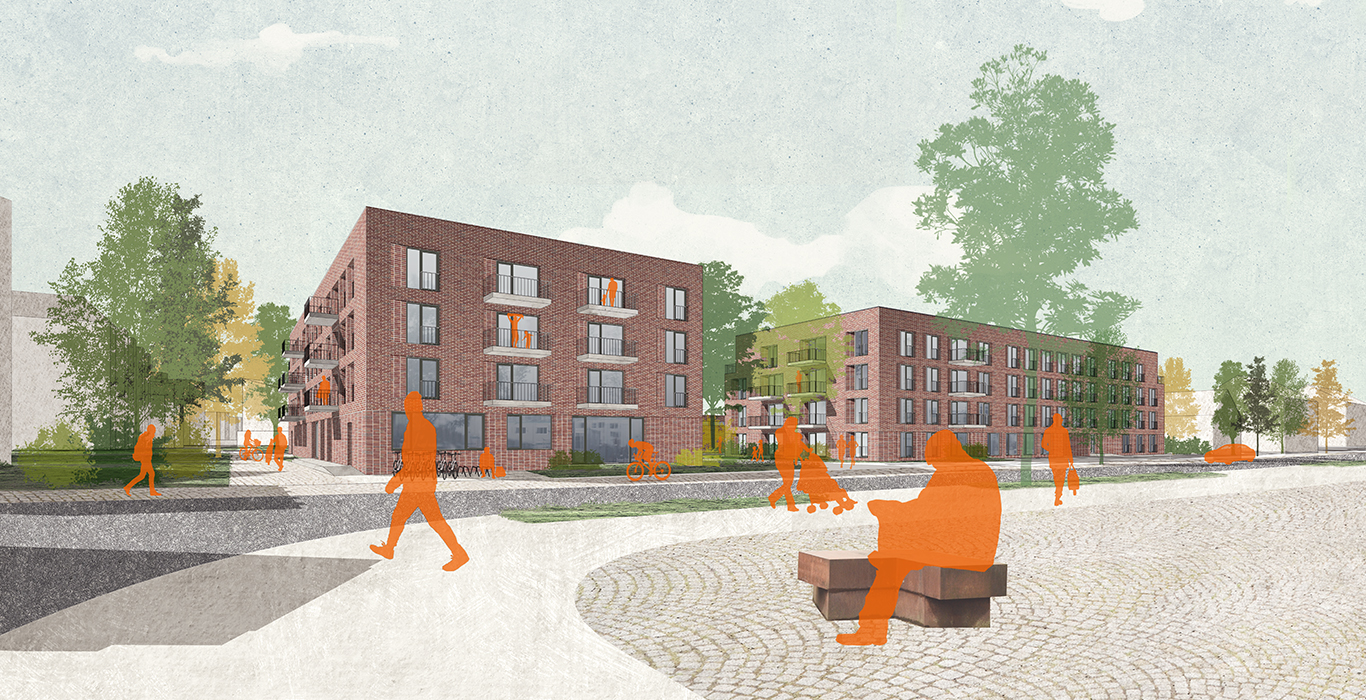 Housing Complex "Gescherweg"
| | |
| --- | --- |
| Location | Munster, Germany |
| Year | 2019 |
| Status | Competition |
| Client  | Wohn + Stadtbau. Wohnungsunternehmen der Stadt Münster GmbH |
| Program | Housing project comprising a total of 80 apartments, a kindergarten, a youth center and a mother's center |
| Area | 5.900 m2 |
| Team | Jola Starzak, Dawid Strębicki, Clemens Abert, Aleksandra Krutnik, Anastasiia Oksiukovska, Dagna Dembiecka |
| | |
The structural backbone of the residential project is formed by a green avenue, which results as a natural consequence of preserving existing trees. The avenue brings together all functions in the plan and connects it with the main street, as well as with the local recreation area. The ground floor of the southeastern building houses community initiatives, such as a youth center and daycare center. In the west part of the area, facing the green recreation area there is a freestanding kindergarten building with a playground. Inside the plan area there are semi-public courtyards with entrances into two U-shaped, four-storey residential buildings. The courtyards, located in the center of the quarter, maintain the balance between the local and urban scale. The shape and position of buildings provide quiet and calm living, despite the nearby football pitch and green recreation zone. Parking spaces for bicycles are provided in key locations of the quarter. On the side of the street, there are parking spaces next to the daycare center and the youth center, and an entrance to the underground parking. The residential buildings include total of 80 dwellings in seven different typologies. Each dwelling has either a balcony, small garden, or a roof terrace. On the ground floor, both residential buildings have common rooms allowing inhabitants to store bicycles, strollers and to organize events, cook together, and interact with each other.
Particularly important in the design process was to provide a stable, comfortable climate, while paying attention to the aspect of sustainable development not only measured by technology, ecology, and environmentally friendly and passive building solutions. Overall comfort and wellbeing of inhabitants are also important objectives.