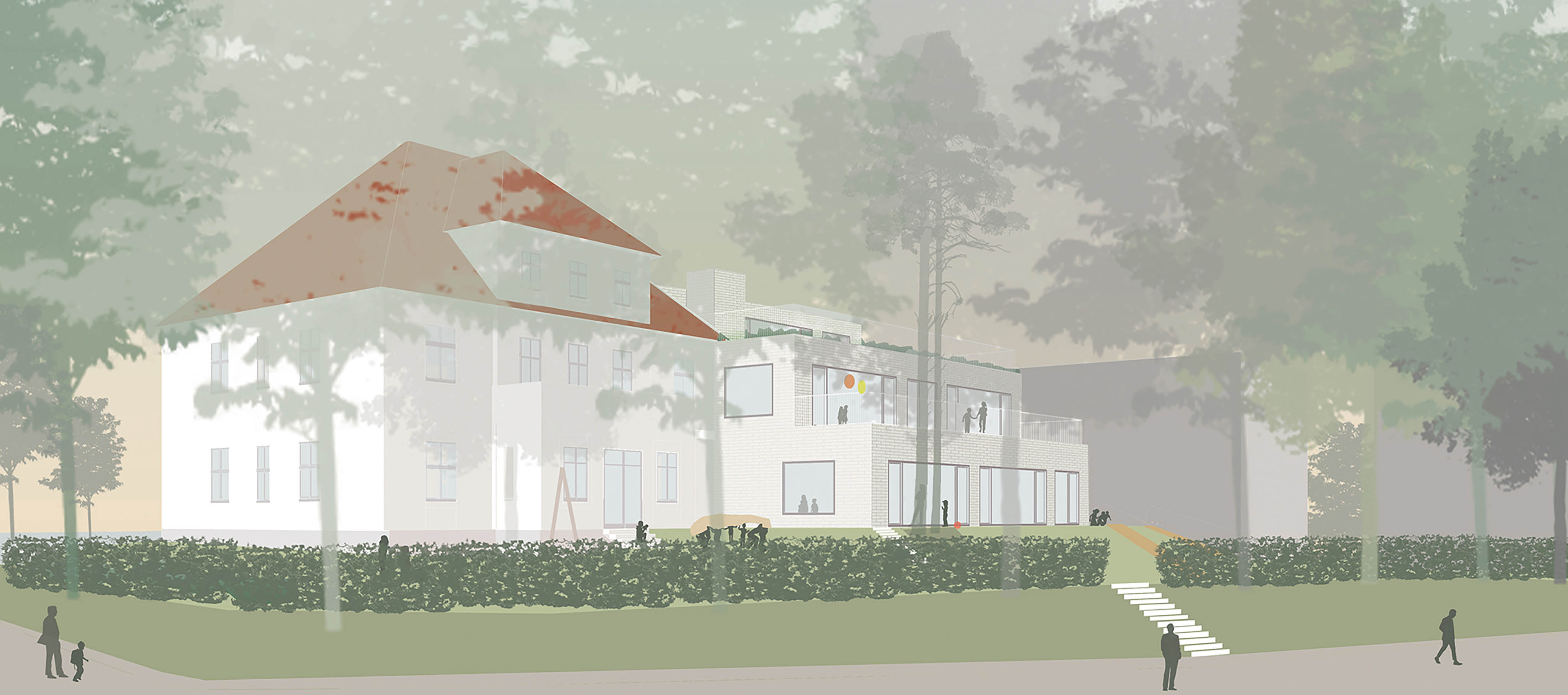 Kindervilla Bayreuth
| | |
| --- | --- |
| Location | Bayreuth, Germany  |
| Year | 2020 - 2021 |
| Status | Closed competition |
| Client | Bavarian Red Cross |
| Program | Kindergarten and daycare |
| Area | 2.514 m2 |
| Team | Jola Starzak, Dawid Strębicki, Barbara Tamborska, Julia Władysiak, Magdalena Talarczyk |
The new extension building for the villa with kindergarten, creche and day-care premises has almost the same volume as the existing part. The entrance facade of the new building was set back in order to emphasize the structure of the historical facade. On south side it is the other way around: the rear facade is terraced several times towards the garden. The main entrance to the property is in the north, where a ramp leads directly to the building.
In order to enable easy communication between the existing and the new building, the story heights of the two parts have been adjusted to one another. There are also some similarities in the floor plan of both buildings, especially in the universal clarity and symmetry of the layout. Functions in both buildings are connected via two staircases and an elevator, allowing barrier-free use of all rooms. On the new building's ground floor common rooms were located in order to facilitate organising internal events as well as external ones, besides the regular opening hours of the Kindervilla. Large central room of the ground floor can also serve as an exhibition space of kids' artworks and is an inviting meeting point for all users. Furthermore, there is the nursery on the first floor and the work and therapy room on the second floor.
Light brick was chosen for the new building's facade material in order to match the colors of the historical villa. Situating the extension on the plot was determined by preserving most of the existing trees in the garden, where kids play while integrating with nature.