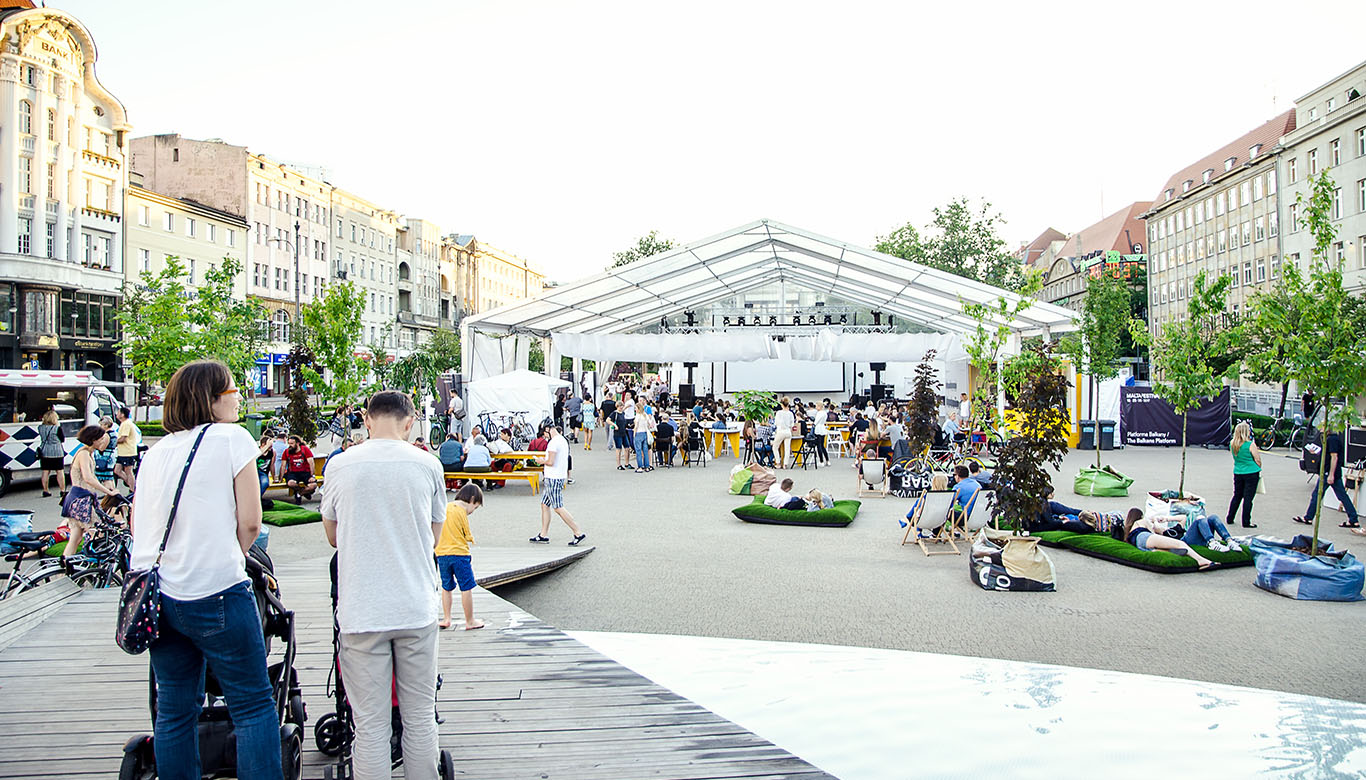 Temporary public space for Malta Festival Poznań 2017 on Plac Wolności
| | |
| --- | --- |
| Location | Poznań, Poland |
| Year | 2016 - 2017 |
| Status | Completed |
| Client | Fundacja Malta |
| Program | Generator Malta - club, music podium, theater podium, workshops and leisure zones |
| Area | 4.000 m2 |
| Team | Jola Starzak, Dawid Strębicki, Luis Gómez Soriano, Anastasiia Oksiukovska, Katarzyna Krawczyk, Zhyldyz Kozhoiarova, Michał Motyl, Zofia Bońkowska |
| Photography | Mateusz Bieniaszczyk, Maciej Zakrzewski, Klaudyna Schubert |
Each year the layout of the square is different and refers to festival idioms. Different topics which are discussed during each festival edition help to invent new strategies for the layout of the space. In 2017 festival idiom "The Balkans Platform" was referring to the journey through the meanders of social and cultural meanings, in all their ethnic and political complexity, using countries of Former Yugoslavia as a kind of tracing paper. To find a proper spatial answer for this, we based our idea on a very interesting and fascinating quote from The Journal of Architecture:
"The choices made will shape not just the urban fabric, buildings and spaces but also social relationships, collective identities, the sense of belonging and the opportunities to move towards a sustainable peace." Architecture and conflict. Introduction. Learning from architecture and conflict - By Brigitte Piquard, Mark Swenarton ( The Journal of Architecture Volume16 Number1 )
Focusing on complexity of society, their choices and relation between urban fabric and the way it defines social relations we have created a wall/labyrinth like object. Using simple scaffolding structures, 370m of semi-transparent fabric and some plywood panels, we turned part of the square into a zone with different rooms, niches and nooks to be "inhabited" by the city users. To give people a bit of intimacy the labyrinth structure was closed by a wall, which became a place where people could express their different opinions and leave their own comment.