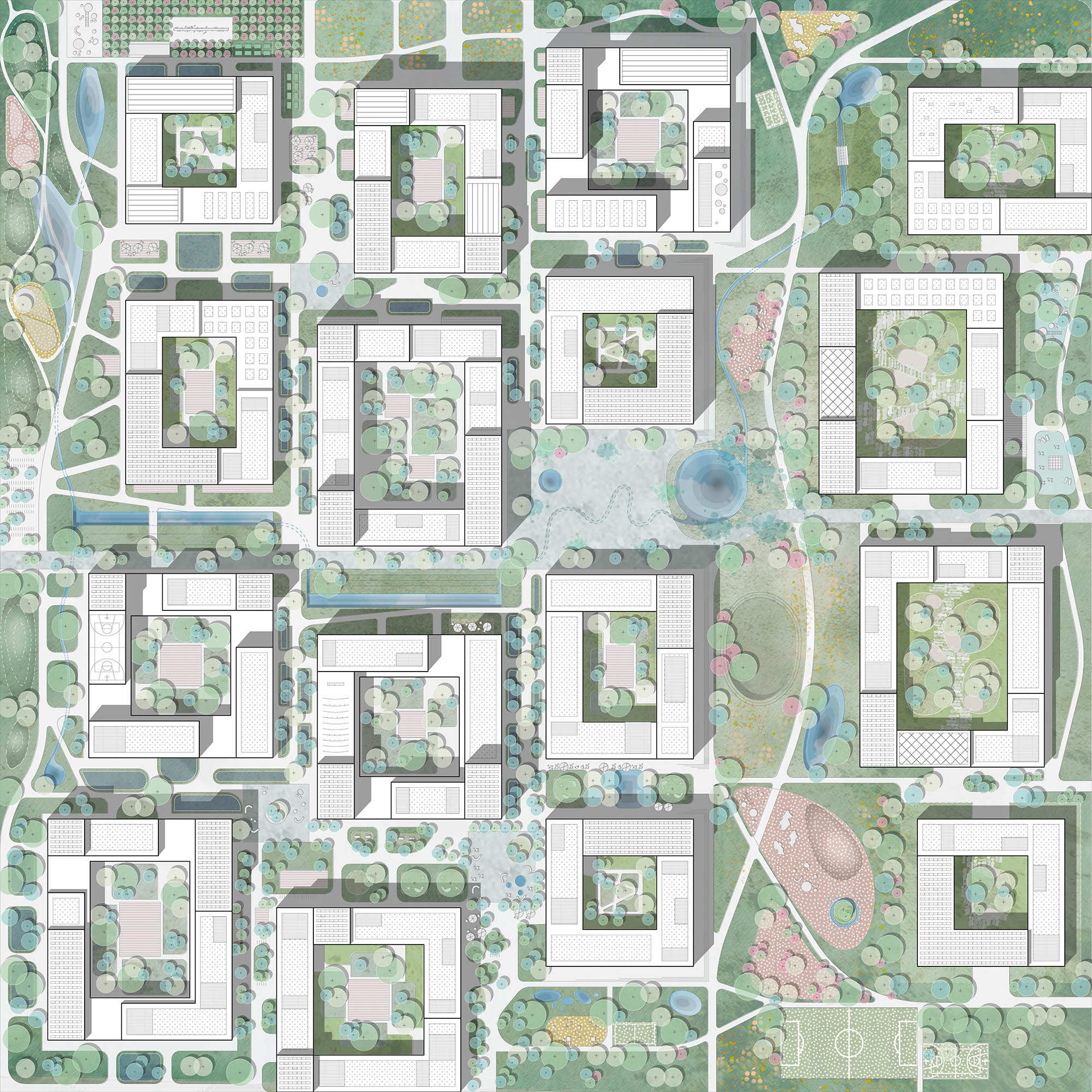 Stadtbaupuzzle
| | |
| --- | --- |
| Location | Berlin, Germany |
| Year | 2020 - 2021 |
| Status | Closed competition |
| Client | HOWOGE Wohnungsbaugesellschaft mbH |
| Program | Urban design of a sustainable housing estate with services on the ground floor, usable rooftops and courtyards, main square, streets and green area with a rain water retention body in a theoretical plot in the suburbs of Berlin  |
| Area | 160.000 m2 |
| Team | Jola Starzak, Dawid Strębicki, Barbara Tamborska, Flor Marín, Barbara Nila Cañedo, Julia Władysiak |
| In collaboration with | Pracownia Architektury Krajobrazu, Marta Tomasiak  |
Presented concept should not be seen as a specific project, but as a generic strategy, developing 16 square fields of land, each 1 ha in size, forming the prototype of a new, friendly and self-sufficient residential neighborhood. Every element and every decision on the way to create a new district must be reproducible in a real situation, but also be able to adapt to a specific context and its needs, allowing a step-by-step development as well as changing its function. The district is divided into three neighborhoods, consisting of four to six blocks. Each one has a slightly different environment, influenced by the one next to the district's border.


The street spaces are meandering spatial sequences that change between blocks, each developing its own characteristics. The diverse sequence of spaces, combined with the mixed functions in the ground floors of the buildings, create a high-quality infrastructure for urban living. At the heart of each unit is an intimate common space. The central square between the three quarters, open to the adjacent green space, is connected to the metro station (S-Bahn) by a pedestrian and bicycle axis. An extensive continuous green space with footpaths and an integrated cycle route connects the new city district with the open countryside.

A variety of public and private green spaces and water areas between the buildings and on the rooftops are used to control the micro-climate, and to raise among residents the awareness of the environmental aspects. These green climate buffers prevent creating heat islands, retain rainwater and provide a habitat for flora and fauna.
With their simple and recognizable geometry, building blocks stand out against its heterogeneous surrounding. Higher rooms on the ground floor along with a modular construction enable flexible use of the space. For functions requiring large volume and square footage, there is also additional space on the inner courtyards covered by green roof. The upper floors not only offer spacious rooms for residential use, but also a possibility to combine them with smaller offices. Furthermore, the green roofs provide space for collective common spaces.


Rainwater is fed into the retention system through an open water canals, then used in ponds and infiltrated in rain gardens and retention reservoirs. Gray water is purified and intended for irrigation of urban vegetation, while black water is used for energy production.

The buildings are heated and cooled using heat collectors (photovoltaic panels) and a thermal energy storage system. Orientation and various building heights allow optimal use of sunlight on and around the blocks.


The district is designed mostly for pedestrian and bicycle transport. Only emergency or delivery vehicles are allowed to freely enter the district center. Car traffic has been kept to a minimum. Three loop roads provide access to all residential buildings. There are three zones on the periphery of the area with multi-level surface parking and access to a variety of alternative transportation. In addition, bicycle parking spaces with charging stations have been located in all blocks, in public spaces and at the metro station (S-Bahn).