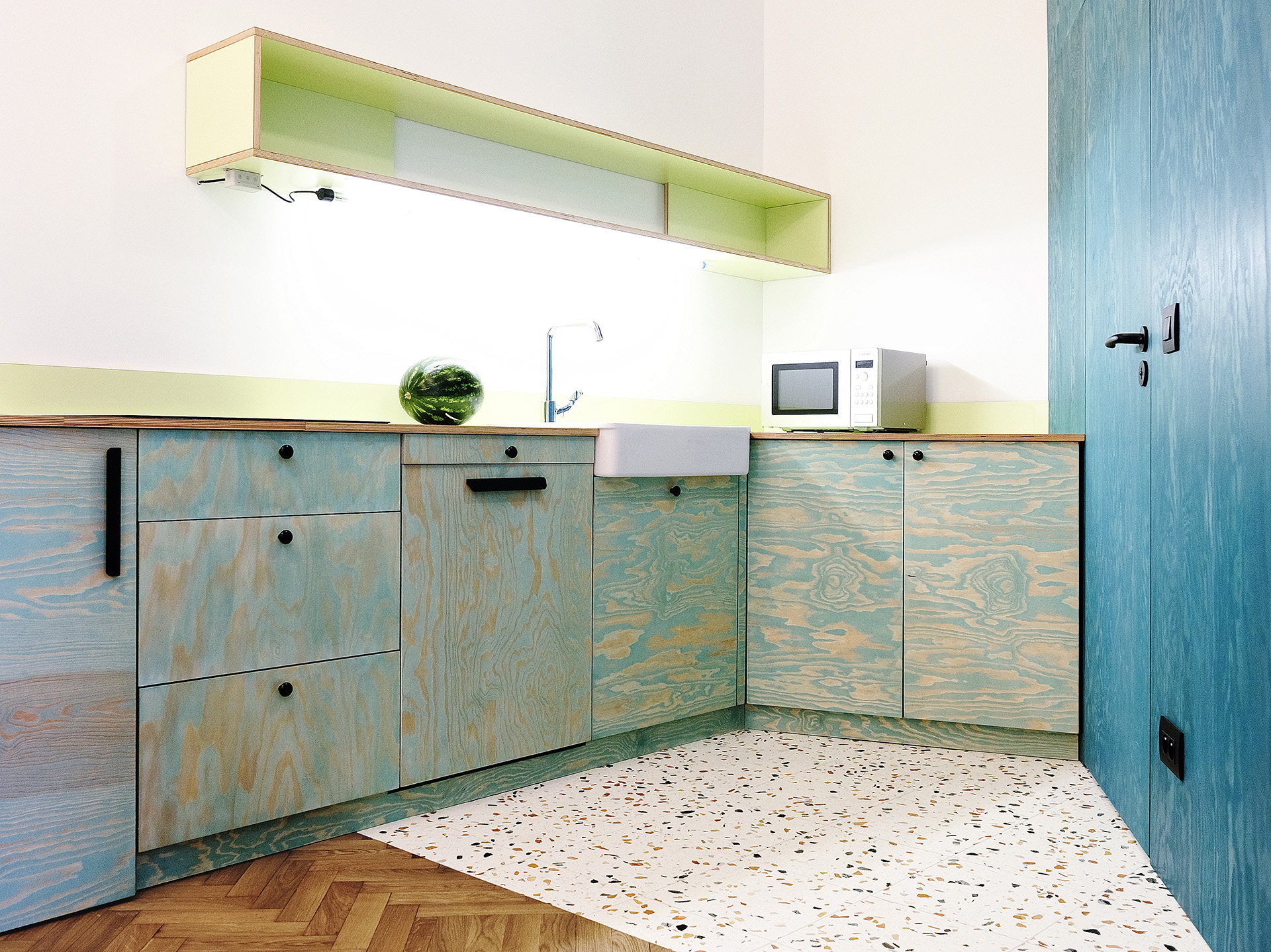 Transformation of kitchen and bathroom
| | |
| --- | --- |
| Location | Poznań, Poland |
| Year | 2021 - 2022 |
| Status | Completed |
| Client | Private |
| Program | New spatial layout of kitchen and bathroom along with furniture design |
| Team | Jola Starzak, Dawid Strębicki, Martyna Karnaś |
| Photography | Danil Daneliuk |
The transformed space of kitchen and bathroom is located in the interiors of a residential villa built in late 20s of the 20th century in Poznan. As a result of the new design a wall of the bathroom, with a small kitchen adjacent to it, was demolished, which made it possible to create a new layout, fulfilling the current needs.
The main element redefining the space is the new diagonal wall separating the open kitchen accessed from the corridor and the closed bathroom. Little doors integrated with the diagonal wall, lead to a storage under the stairs, created in order to make the most of the given space. Wide counter top provides comfortable conditions for users even with few people using the kitchen simultaneously, but also makes the drawers underneath deeper. The bathroom's inner corner next to the doors is filled with a sink and a drawer, therefore no free-standing equipment is needed in this irregularly shaped room.
Vivid colors and clear textures of chosen materials, contrasting with the bare white walls in the background, play the leading role in the design. Both furniture and the diagonal wall were made of turquoise stained pine plywood, while the counter top and the shelves were made of laminated plywood. The existing wooden plank flooring was supplemented and after polishing oiled. Terrazzo tiles were lied on the bathroom's and partly, following its original contour, on the kitchen's floor. Walls in the bathroom were covered with ceramic tiles. Its interior is lit through a window over the sink, on which were mounted circular and semicircular shaped mirrors.